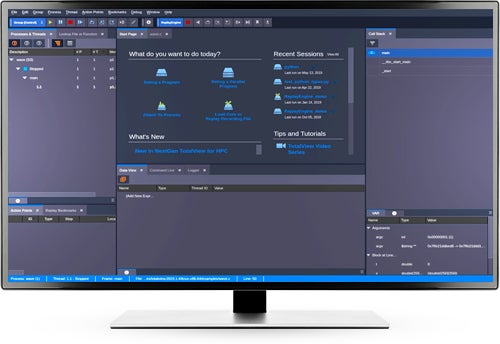 Improve Your HPC Debugging
Use the world's most advanced HPC debugger for complex, multithreaded applications for free, for 30 days.
From the TotalView GUI, you can:
Simultaneously debug thousands of concurrent threads and processes

— individually and as groups

.
Step backward and forward by function, line, or instruction with reverse debugging.
Improve application response times by identifying and fixing memory issues including leaks.
Debug one to many NVIDIA GPUs on one to many cluster nodes.
See how you can save time and improve HPC application performance.
Start your 30-day trial of TotalView today.
Are You a Student Looking to Try TotalView?

Use TotalView in the classroom with a free student license.
Complete the form below for a commercial evaluation of TotalView. If you are a Student, use this form instead.